Main content starts here, tab to start navigating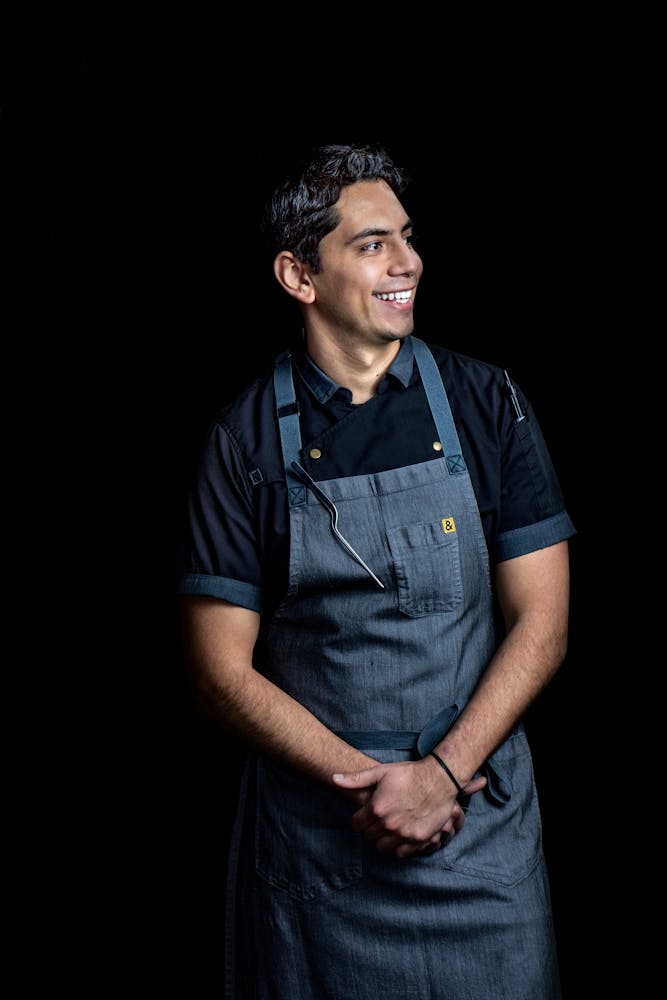 Jesus Medina, Chef
Hailing from Acuña, Mexico, Chef Jesus Medina credits his initial curiosity for the culinary arts to his beloved Mother. Chef Jesus recounts memories from his childhood of his mother masterfully creating traditional Mexican cuisine in the kitchen of their home south of the border. It is this meaningful time with his Mother that has given him the drive to pursue a diverse culinary journey eventually leading him to the helm at Coin & Candor.
Chef Jesus' classic training began in 2006 where he earned a Bachelor's degree in Culinary Arts at the Laureate International Universities in Saltillo, Mexico. Following culinary school, he spent one year in the bustling food-centric city of Sao Paulo working in restaurants and mastering the fine dining experience. Chef Jesus then returned to Mexico to work in the Rivera Maya at the Barcelo Maya Palace as Line Cook. Developing an interest for life on the water, Chef Jesus pursued a position as line cook aboard the Royal Caribbean international to work in the ship's French fine-dining restaurant across the Mediterranean seas for a year. His Latin roots inspired him to disembark the cruise ship in Barcelona, Spain, and spend a year working in classic tapas and Mediterranean restaurants while developing an acute understanding for the Spanish culture and cuisine. Upon his return to Oaxaca, Mexico in 2011, Chef Jesus learned from one of the best in the country while at the acclaimed CASA OAXACA under the internally recognized Chef Alejandro Ruiz.
Chef Jesus' career with Four Seasons began in 2012 when he joined Four Seasons Hotel Scottsdale and later Four Seasons Punta Mita. He moved to Westlake Village in 2016 and has been embracing the Southern California seasonality of farmers and purveyor with bold, unique ingredient-driven dishes. During his time in California, Chef Jesus has developed a vast array of original dishes inspired by his roots yet reflective of the coastal California cuisine. In his spare time, Chef Jesus likes spending quality time with his wife and friends over a good meal and great conversations. When not in the kitchen he is often seen running outdoors or mingling with local farmers' at the Westlake Village Farmers' Market.
Patrick Fahy, Pastry Chef
Chef Patrick hails from the critically acclaimed Thomas Keller destination restaurant The French Laundry, which most recently earned the Michelin Guide San Francisco highest rating of three stars for the sixth year in a row. At The French Laundry, Chef Patrick was the Head Pastry Chef responsible for the dessert and mignardises program, and regularly collaborated with Keller's other restaurants including Per Se, Bouchon, Bouchon Bakery, Ad Hoc and Ad Lib.
As executive pastry chef of Trump International Hotel and Tower Chicago, Chef Patrick led the restaurant Sixteen to earn two Michelin stars in 2013. At Blackbird restaurant Chicago, Chef Patrick was a James Beard Finalist for Outstanding Pastry Chef in 2011 and a Semifinalist in 2012 and 2013. He has also worked in the pastry kitchen at The Ritz Carlton Chicago (formerly a Four Seasons Hotel). It was here where Chef Patrick was introduced to the art of fine dining pastry and developed a passion for becoming a top-rated pastry chef.